8 March 2018 International Women's Day
12-2pm, Old Palace Yard, Westminster, SW1P 3JY
(across from Parliament) All Welcome
Disabled mums will be joining with other mums to speak out and press for Support Not Separation from our children.
Plain text under the image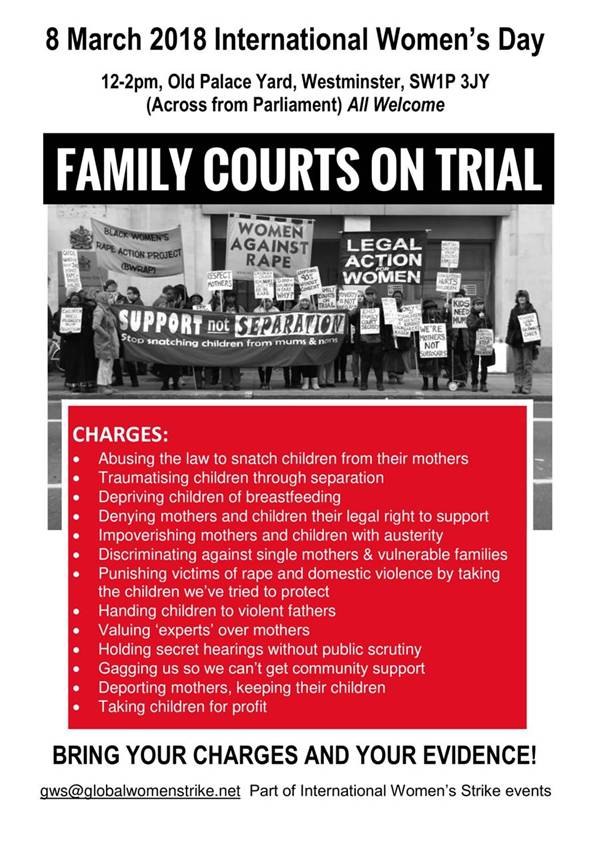 Facebook event here. Follow us on Twitter @WomenStrike.
FAMILY COURTS ON TRIAL
CHARGES:
·        Abusing the law to snatch children from their mothers
·        Traumatising children through separation
·        Depriving children of breastfeeding
·        Denying mothers and children their legal right to support
·        Impoverishing mothers and children with austerity
·        Discriminating against single mothers & vulnerable families
·        Punishing victims of rape and domestic violence by taking the children we've tried to protect
·        Handing children to violent fathers
·        Valuing 'experts' over mothers
·        Holding secret hearings without public scrutiny
·        Gagging us so we can't get community support
·        Deporting mothers, keeping their children
·        Taking children for profit
BRING YOUR CHARGES AND YOUR EVIDENCE!
gws@globalwomenstrike.net Part of International Women's Strike events
---